Unfolding chestnut tree leaves
Spring is extremely lovely here, warm and sunny. It is wonderful to see the trees put on robes of flowers and unfold their leaves. Have you ever looked at a chestnut tree when it opens its leaves? It looks as if all the leaves are folded up and when the weather allows, they unfold like a fan. Fascinating!
The blackbirds sing their courtship songs every morning and every evening and it seems to me that it is more beautiful every year.
It's been a long time since I wrote something here. I was waiting for something special to share with you. What I have to share with you is
very
special! Look at this:
Interview in Bead & Jewelry!!
I've been interviewed by US-editor Brita Moore from Bead & Jewellery Magazine a couple of months ago, and she wrote not less than a 3-page article about me as a person, a beader, an artist. I am so pleased! It is in issue #70 which has just been added to
their website
!
DW cascading squares
In collaboration with editor
Katie Dean
, I also wrote in the "Tips & Tricks" column, as a guest editor, to introduce Diamond Weave to you, including a lovely earring project. The main subject of the magazine was "Something old, something new" and even though this does not necessarily apply to the Tips & Tricks article, I kept it in mind. This pair of shoulder dusters are made with the new 2mm firepolished beads and with old findings I took from a pair of earrings which belonged to my mother. I didn't like the dangles attached to them, but now I'm very happy with the result, and glad to have something to wear that was hers before.
I hope that you will enjoy playing with this introduction to Diamond Weave. It is only basic stitch, which is only a very tiny bit of what the book
Diamond Weave
has to offer. You can buy the book from major Amazon stores in Northern America and Europe, or directly
from the press
. If you want to place a group order, you can contact me for a discount, via my
Etsy shop
or on the
DW Facebook page.
Talking about Etsy: they changed many things to our shops and asked me to "relook" it. I had to upload a huge photo for the first page. I don't know if you like it. I also had to choose a logo. I had a logo which is now up there, and I think hat it doesn't look bad.
What do you think about it
?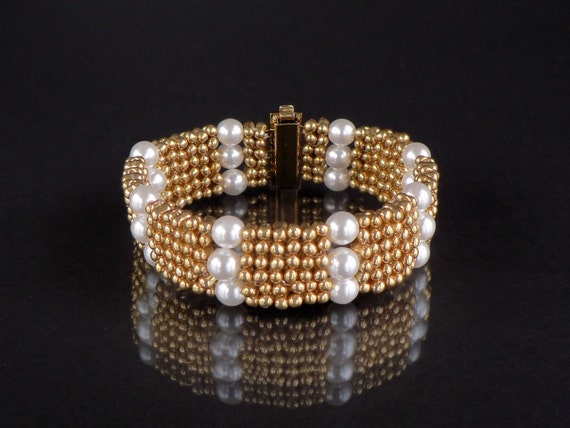 "Grace"
I wrote not many tutorials the past months. One using two-whole triangle Kheops beads with Herringbone stitch,
the Klapukin bracelet
; one for the
simple square earrings
held by the action figure of my beloved Doctor Who, an introduction to basic Diamond weave; one for the bracelet "
Grace
", which combines basic Diamond weave and Variation no. 5.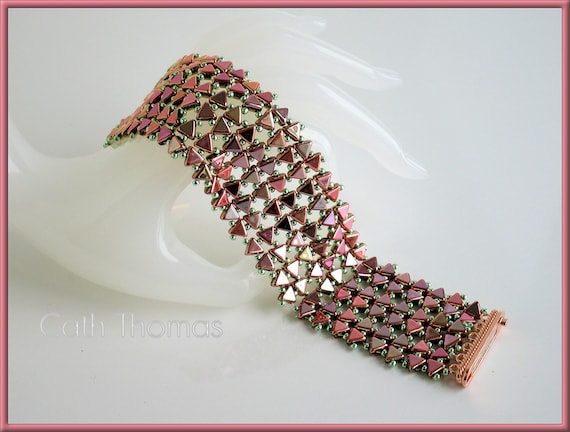 Klapukin
I like how this makes me think of "Chanel #5". The various stitches in the book (so many!) are nearly all building upon the previous ones, and so they are in a logical order. It also allows easier communication between friends who have the book.
I hope to write more tutorials soon, but for now, I am taking a little bit time for myself, to bead 'just to bead', and have quality time with my husband, take care of my birds and home, because tuttifying is a lot of work, and the past 2 years have been nearly exclusively dedicated to the book. I have projects and bits and pieces of beadwork that I left aside, which I would like to finish. Knowing myself, I will probably tutify projects even if I have all these others things on my bucket list...
And of course, there is the "
From Petal to Pod
" group, counting already more than 600 members! Who knows where that is going to take us!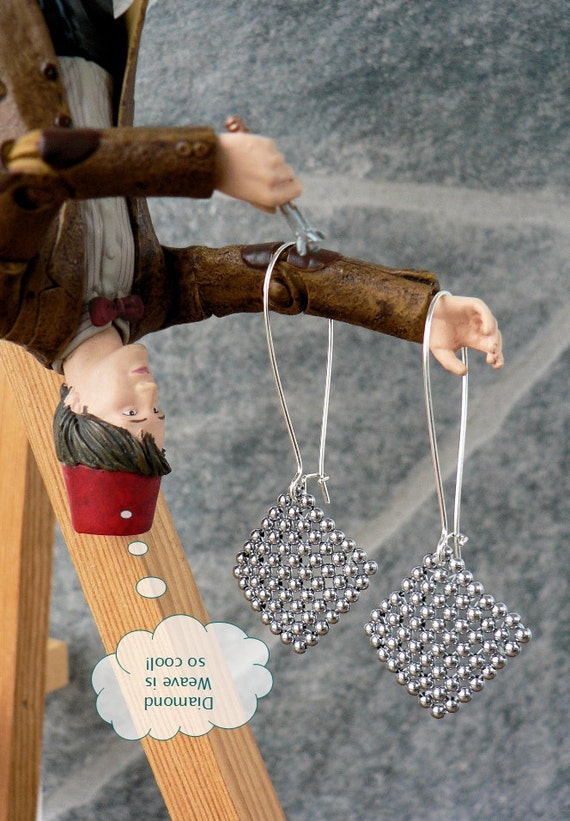 Diamond Weave
is COOL
So much to do. So much to learn. So much fun and love to share.
Life is great!
Happy beading!
Cath